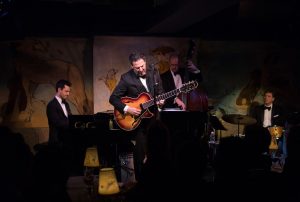 photo: David Andrako
by Rob Taub
I don't like to be one of those people that launches a sentence with the phrase, "Years ago," but years ago, finding great live music in New York City was about as simple as finding – well – a shoe shine stand.
I can easily recall a Monday night in 1978 when I was fresh out of college and walking down Seventh Avenue right below 23rd Street with a group of friends, going from one jazz club to another and seeing great artists play my favorite music.
Today those venues are about as rare as an oasis in the desert, but fortunately, this week John Pizzarelli is in residence at the Café Carlyle.  Pizzarelli has become a fixture at the Carlyle, but he presented a new set list last night with a focus on Nat King Cole, and every tune is a treat.
Pizzarelli played some classics like Sweet Lorraine and Straighten Up And Fly Right, but most of the songs are unfamiliar, yet you'll instantly feel like you've known them forever.  The set list – along with Pizzarelli's approach to the songs – is so different and such a departure from his last few shows, I felt like I was seeing a different performer.
Pizzarelli is perfect for the Café Carlyle and inhabits the room like he owns it, creating a wonderful intimacy with the audience that's truly rare these days.  He's backed up by Mike Karn on Bass, Andy Watson on Drums and "boy wonder" Konrad Paszkudzki on Piano, who very nearly steals the show with his inspired playing.
John Pizzarelli is at the Café Carlyle  through March 24th.  35 East 76th St., New York, NY 10021, USA  Café Carlyle Reservations: +1 800 405 1985