Rob wins Best Original Screenplay at the Houston Film Festival.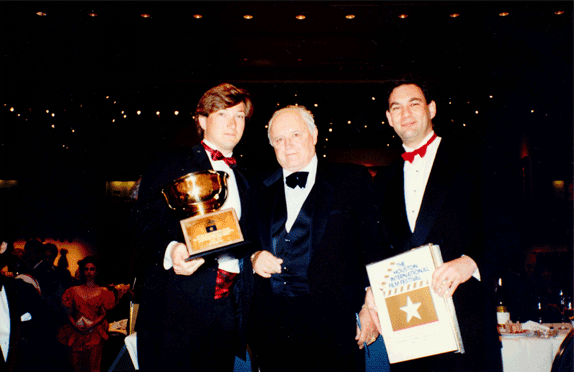 Comedian Rob Taub has enjoyed an eclectic career in film, television, theater and print. His work in broadcast has encompassed everything from scripted comedies to World Wrestling Entertainment. Rob wrote, produced and appeared in the first "green screen" television production It's The Weekend! which garnered a Telly Award as best Original Comedy. This led to a deal with ABC-TV and another unique comedy show, Where'sThe Party? Rob's unique brand of humor was then put to use by World Wrestling Entertainment, where he helped create numerous scripts and characters. During this same period, Rob's original screenplay, Out Of the Rough, was chosen by the WGA for its prestigious Lincoln Center Series where it was presented as staged reading. As a journalist Rob has written more than 64 articles for People Magazine. His distinctive voice can be heard in several of the Coen Brothers most memorable movies including Miller's Crossing and Barton Fink.
Rob is a native New Yorker, born in Staten Island, although he spent most of his youth being raised in New Jersey. He never forgave his parents for taking him away from New York and, immediately after graduating college; Rob moved back to New York City and has never considered living anywhere else.
Rob has always been a competitive athlete, and Tai Chi and running have long been a part of his lifestyle. A few years ago, Rob began gaining weight uncontrollably and was eventually diagnosed with Type 2 Diabetes. This led to a diet and fitness plan of Rob's own creation which resulted in a weight loss of nearly 100 lbs. Rob's new "hobby" is speaking about diabetes and weight loss and he brings a great deal of humor to the subjects.
Rob's latest television venture has been that of a political pundit/humorist. No one combines politics and humor quite like Rob Taub. Rob has a B.A. Degree in Politics from Ithaca College and has worked on numerous political campaigns, but he seems to have found his true calling as an outspoken liberal pundit. Rob has appeared regularly with noted media personalities such as Juan Williams, Harris Faulkner, Jonathan Hunt and Laura Ingle. Rob can be seen regularly on Fox News Live on Fox News (official site) as well as across the country performing standup comedy.
For Media Inquiries Please Contact:
Elissa Buchter
Elissa@bridgeandtunnelcomm.com
310-963-4808